Safer and delicious dining experience
Prompt assistance when you need it.
There are remote call buttons on our dining tables which you can press to call us. This put our mind at ease knowing you know how to get us when needed and reduce unnecessary, frequent checking by our staff, there by reducing close human contact.
Autonomous robots joined our team.
Our autonomous robots perform repetitive and tedious tasks, so that its human teammates can focus on hospitality, while helping reduce nonessential close human contact. (Picture above - Milo, our food running robot at our Beaverton location.)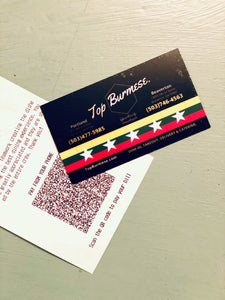 Pay remotely right from your table.
In addition to offering standard contactless payment options such as Apple, and Google Pay, we provide unique QR codes on our checks which you can scan and pay directly from your table simply using credit/debit card.
on Discovering Burmese food
For fans of Southeast Asian cuisines like Thai and Vietnamese, discovering Burmese food is the adult equivalent of finding a new playground, right in your neighborhood.

Julia Moskin, NY Times
Now is the time to turn your senses onto this sour, savory and fascinating cuisine, before the rest of the world catches on.

Alison Spiegel, The Huffington Post
Featured Vegan Dishes
Samosas (Sa' Musa)
Crispy triangles filled with delicious stuffing made of potatoes, carrots and green beans. Slightly sizzled to perfection and served with Top Burmese special sauce. Perfect companion dish to any of our exotic salads or curries.
Order
Ginger Salad (Gin Thoke')
Burmese comfort dish. Seasoned ginger mixed with fresh tomatoes, cabbage, roasted peanuts, sunflower and sesame seeds topped with fried garlic.
ORDER
Coconut Rice w/Tofu (Ohn Tamin')
Aromatic rice infused with real coconut flavor in each grain. Served with authentic Burmese style soy tofu curry cooked to perfection with fresh tomatoes, onion, ginger and garlic, spiced up by paprika and turmeric.
Order
New DISHES just added
Oh No Khao Soi
"Oh No" - means coconut milk in Burmese. "Khao Soi" - means Noodles. "Oh No Khao Soi" is now available on our menu. Chunky chicken curry with noodles in deep flavors of coconut broth. Vegan version is available with Tofu.
Order Now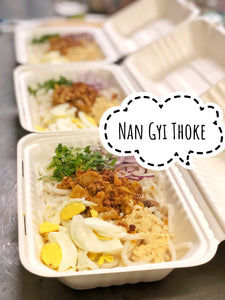 Nan Gyi Thoke
Burmese rice noodles with signature chunky Chicken Sauce. It's zesty with satifying rich flavors. Vegan version is available with Tofu.
Order Now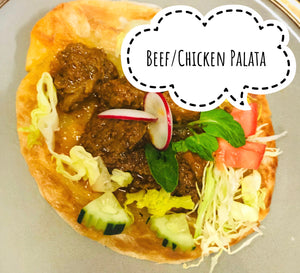 Pan Toasted Parathas
Chicken/Beef Paratha (Palar Ta'). Soft flatbread pan-toasted with Avocado oil. 
Order Now
Our Commitment To Sustainability
Aeroponics at Top Burmese. We love nature, and what it provides. We are always on a path of discovery to sustaining it. Our goal is to grow 20% of our salad toppings inside our restaurants using aeroponic technology. It uses 95% less water than traditional farming and eliminates waste resulting from transportation and shipping the produce, not to mention it is pesticide-free (because there's no soil involved) and fresh!